Vedic Astrology Blueprint
Get a visual representation of the planets that influence your personality, mind and soul.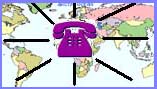 Vedic astrology consultation over the phone
Have a Vedic astrology consultation with one of our USA based astrologers over the phone! Call 1-800-459-6847 to make an appointment.

Subscribe for Free Panchang
Panchang is ancient Vedic astrology that helps you synchronise with your best days and times - ahead of time. More accurate than conventional horoscopes, it has many practical uses like: love, travel, money, work and much more!

Life Interpretation Report
An exhaustive instant report that covers every important area of life.